WLA News
WLA – News Bulletin
Cebu, 2017. Another Successful Conference.
This past October we celebrated our 8th Annual General Meeting in beautiful Cebu, Philippines. Like always we delivered on our promise of a different conference. One where agents can network and make money while having fun.
Cargo Bookings between old and new members happened during the conference…this is what it's all about.
Cebu 2017 awards: Congratulations!
Douglas Haines from Renaissance International, was the winner of the night with a Loyalty award and a flight thanks to Etihad x WLA.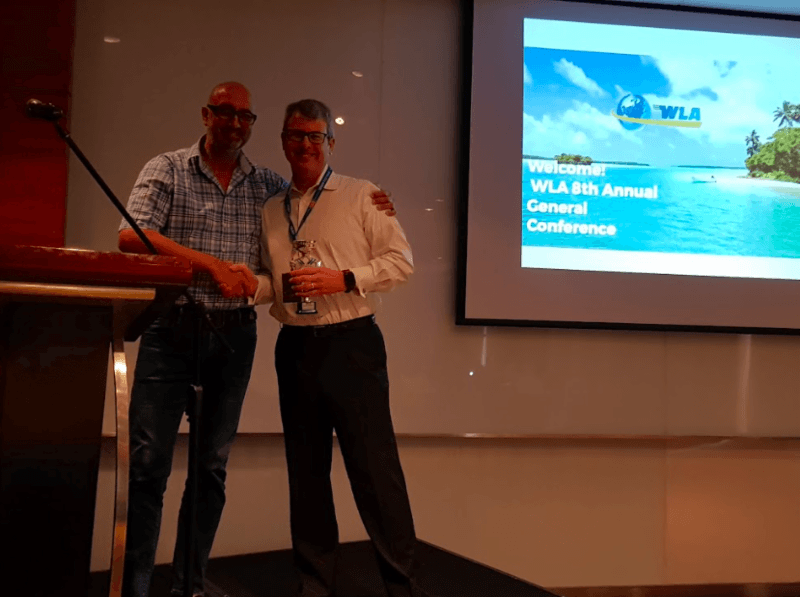 Bill Sharpe from ICS Logistics in Chicago receives the Loyalty Award.
The 'Turkey' team had the highest scores on the Team Development Games.
Adam Lopez from Safco Services in the UK also received the Loyalty Award
Santosh Sharma from Smooth Cargo Movers, Nepal received the Loyal Member Award.
Ganisan Ramasamy from VLI Logistics also received the Loyalty Award.
Highlights from our community.
Tesla has recently unveiled their electric semi-truck with a 500-mile range. The company says it can haul 80,000 pounds. What does it mean for the future of freight?
Let's discuss.
Renaissance Freight turns 23 years old. Congratulations!
For 5 years in a row, Rose Containerline from New York, USA has had the best 
WLA membership fee payment performance! 
Congrats Neal, Josh and Team.
Say Hello! to our new members.
Excel Logistics – Sydney, Australia – Paul King
Seastar Global Logistics – Mumbai, India – R.K. Sharma.
Global Export Shipping LTD – Tel Aviv, Israel – Nir Sela.
Korchina Logistics – Tokyo, Japan – Ms. Sally Kim.
Juyoung Trans World Inc. – Seoul, South Korea –Simon Kang.
APEX Freight Logistics Services – Farwaniya, Kuwait – Jacob Thampy.
Grupo MMS – Mexico City, Mexico – Marco Mendoza.
AWL Moerdijk – Klundert, Netherlands –Dimitri Van Bekkum.
Braanker Worldwide – Alblasserdam, Netherlands – Lennart Koudijzer.
CVL International – Dakar, Senegal – Gregory Guelle.
General Courier Logistica S.L. – Almassora, Spain –Luis M. Lopez Edo.
KRS Logistics – Dubai, UAE – Shibu George.
Trans Shipping International – New York, USA –Shy Harpaz.
ASAP Expediting and Logistics – Columbia, USA – Garland Hobgood.
Mattroy Logistics – Singapore, Singapore – Kelvin Ho.
KS Group – Mumbai, India – Ketan Dholakia.
Stenzel Logistics EK – Rodgau, Germany–Markus Stenzel.
ICAL Co. – Ho Chi Minh City, Vietnam – Van Hao
Quadreco Trading (PYT) Ltd – Gauteng, South Africa –Pooby Naidoo
Box Logistics – Paranaque, Philippines – Vincent F. Marquez
JCT China Co. LTD – Shanghai, China – Jennifer TIan
Welcome to our family, we are looking forward to working with you!
It has been a pleasure to serve you for the past 9 years!
Like you know. We like to do things different.
Besides a network, we see ourselves as a family. We care about our members and for this we strive to become the safest network.
We have had countless memories and experiences that ultimately bring us together.
Remember Kuala Lumpur, Barcelona, Cebu? Great memories!
If you are an old member thank you for your support until now, we are here because of you. If you are a new member, welcome! We look forward to working with you and creating memories together.
We hope that you join us for this next year.
Our 9th Annual General Meeting will take place in Morocco. October 2018.
We are also really excited to announce that this conference will be a summit with the members of another network. This will allow more opportunity for networking.
Exact dates will be determined in January 2018.